If I could turn back time, I would have chosen the orthognathic treatment five years earlier. I would have been only 23 years old after the surgery.
Vita, what was your problem when you sought treatment? How did it impact your day-to-day life?
Since early childhood, I have suffered from weak, quickly decaying teeth. In the fourth grade, my mom noticed that I had a malocclusion. At that time, my mom worked at the stomatology department in Mažeikiai, so she immediately started making inquiries among her colleagues on how to solve this problem. Firstly, one doctor developed an extraordinary single-tooth plate for my lower teeth, which fell out quickly. Later, we went to a private clinic where odontologists made a plate for the expansion of maxilla. Since I was a child, I used to forget often to put that plate into my mouth, and I was ashamed to wear it in school because I was not able to talk correctly. Finally, I lost that plate, and I, with mom, decided to seek help in Kaunas. After the consultation, it turned out that the mandible was longer than the maxilla and that the orthognathic surgery will be necessary, while braces will only allow straightening the teeth. Back then, I was about 13 years of age only, and the jaw surgery seemed terrifying. My occlusion did not cause me significant discomfort, even though sometimes I experienced sneering from other kids. However, such surgeries seemed incredible back then, so mom and I decided to do nothing about it.
Second time around, I decided to undertake treatment myself because teeth started to shift and wear thin badly, I suffered from breathing difficulty and slept with mouth open. Then, I was a second-year student at the Kaunas University of Technology. Grandparents promised to cover expenses in case I decided to apply braces. Then, I met odontologist for the first time who proposed two alternatives: treatment with braces only but with the removal of several teeth, or braces, and orthognathic surgery. She immediately recommended turning to doctor Simonas Grybauskas. However, studies were hard at the time, and my family tried to dissuade me, so I got scared again and refused treatment. I often think that if I had started the therapy back then, it would be over by now.
What determined your decision to have surgery?
I used to think always about this surgery; I used to read feedback from the people and saw my teeth shifting. Meanwhile, my relatives were very skeptical about the surgery. All of them used to say if you can eat and look OK, don't make things up. Someone even said that it would be better for me to have breast implants or have brain surgery instead.
Ultimately, I decided by myself that I need it. I thought I could afford it while I have no family, no kids. It is painful when people feel sorry for you because of the protruding chin, or when somebody even sneers at you, besides, I felt that it influences my health condition. At the time, I've been already working and completing my master studies. I wanted everything to be done impeccably, so I went to see doctor S. Grybauskas, and together with odontologists, we started my treatment with braces.
Three months have passed after the surgery, how has your life changed?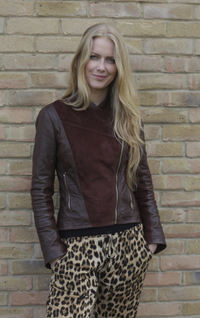 After the surgery, my life changed for the better. I became calmer, kinder, gained more self-confidence. I've learned to love a take care of myself more. My sister and mom called the sweet kitty from the start and said that I've become ten years younger. Now I've fallen in love with my relatives and doctors who took care of me. I got deeply attached to my mother, she nursed med like a baby, massaged me, pressed natural juices, talked with me, and showed sincere support. The post-operative period was terrific. I felt as if I was born again. Everybody wanted to meet me and see how I looked. When I returned to London, friends couldn't recognize me and said I looked like a new person. As one month after the surgery had passed, I left for holidays to Turkey. It was the most beautiful holiday in my entire life. I rested, sunbathed, swam in the sea, ran along the seashore, and even had enough courage to take on rafting. During those holidays, little by little, I started chewing Turkish kofta and stewed vegetables. It was a trip that ultimately restored me after the surgery. It was like a sanatorium to me.
When I returned to work, I experienced a multitude of pleasant emotions. I got promoted. Every day was like a feast and endless fun, filled with jolly jokes. The funniest part was when colleagues couldn't recognize me and introduced themselves to me as if I was a new employee. No one's hiding their fascination with the changes in my appearance, compliment doctor's genius-like work, and continuously keep on identifying me with actress Nicole Kidman. I feel accustomed to my new appearance and feel very satisfied with it. My wellbeing has improved, I breathe more easily, I can chew the food properly, and I'm a happier person.
Have you considered any alternatives to treatment before you made up your mind to have surgery?
When doctor S. Grybauskas examined me, it turned out that there are no other alternatives for me. Since the distance between the upper and lower teeth was very big, I had to choose orthognathic treatment. During the treatment period, I wasn't giving it much thought because I knew that S. Grybauskas is an excellent specialist in his field of expertise and trusted him completely.
How much did other people's opinions influence your decision?
Before I made up my mind regarding orthognathic surgery, I read only comments on the Internet. This surgery terrified me a lot, but it also intrigued me. I felt curious about how I will look and feel after it. The first stage of the treatment began with the application of braces. At first, it felt extremely uncomfortable, but it also was a funny enough experience. I remember that the first time when I went to the concert with a friend of mine, I received compliments and questions about the braces. No one laughed at me, and guys jokingly offered to kiss me, saying they've never tried kissing a girl wearing braces.
After graduation, I left for London. In this colorful city, no one was bothered neither braces nor by my occlusion. I felt pretty and exciting. People at work asked me for how long I've been wearing braces and shared their experience with me. I also met people who had jaw surgeries. All of them in unison motivated and encouraged me to have it because they were able to see that I will look wonderful afterward and will be very happy about it. Once, when I was already working at the airport, I met famous surgeons from Miami. Immediately they asked me when I plan to have surgery of the jaw. They told me about advanced surgical technologies and miraculous results. Also, they assured me that I'd feel pleased about it because it's the right decision. A few more people told me that I'd be looking like Nicole Kidman.
Did you need the support of your relatives or friends eventually? What was their reaction like, when they found out that you decided to have surgery?
At first, I had no support. Some of them said that I'm probably preparing for model casting, others feared that my jaw would be cut, yet others said that it will cost dearly and will take lots of time. However, I always love to prove my point. I was solely responsible for myself. When I settled in London, the family was even happy because I often used to return to visit odontologist or surgeon. Grandpa once said that I shouldn't forget my family because of my teeth. As three years have passed, right before the surgery, my whole family and friends were already supportive of me. All of them helped and prayed for it to go smoothly. More and more people are having surgeries of such type. I think such famous performers like Vaidas Baumila and Linas Zareckas-Choras have also made their contributions by sharing their experiences openly.
How did the treatment go? What were the most difficult moments? Most comforting moments?
The treatment process is still ongoing because I'm still wearing braces, and later, it will be necessary to have an implant installed; however, surgery brought the biggest uncertainty. The pre-surgery period was the most challenging stage of treatment. Perhaps, that's why, when I felt tortured by the doubt whether the surgery will be successful or not. My mom and other family members used to say, why did you start this, it's so risky. I wished for surgery to take place as soon as possible, to have it finished. The second difficulty was that I live and work abroad, so I had to fly back to Lithuania often and spend most of my holidays and savings on treatment. However, the doctors and managers at work were immensely good-natured. Doctors would always have me and include me in their schedule. Managers at work also permitted me to take days off for treatment. The opportunity to see my family and friends often was the most comforting thing of all.
From your point of view, what is the most crucial factor when making one's mind to have surgery? What would you advise other people, encountering a similar situation?
I suppose that many people with occlusion anomalies are accustomed to their appearance, just like a dog gets accustomed to hanging (Lithuanian proverb); however, when there comes an opportunity to improve one's life, it should be used. The most important this is to have a desire, then time and money will follow. It is a large-scale surgery, but it can change the life of a person for the better. Most of all, it's essential to have no fear and to have faith in your doctor. A story happened, and it quietened my fear. Right before my surgery, my classmate got brutally beaten. Thugs broke his jaw; even his eye-sockets popped out. Doctors put his face back from pieces. All of this was not planned – neither the guy nor the doctors weren't prepared for this in advance. One month later, this guy was happily chewing stake at the café. So, then I thought to myself, what is there to fear? My doctor is best in Lithuania, and my health is quite good so that everything will go just fine.
However, there are a few things that I'd like to advise. First – health strengthening before the surgery. Sports, healthy lifestyle, positivity. I personally visited Zumba and salsa classes, put effort into practice healthy nutrition, and anticipated the surgery as it was supposed to be a celebration. I did blood tests often and monitored my health condition. Also, it is critically important before surgery and afterward to have people who will take care and look after you. I would have also wished to know how people looked and felt after the surgery.
How did post-operative period go?
Right after the surgery, I felt very lively, even though I was in intensive care. I couldn't fall asleep all night, and I rejoiced for being able to use my phone because I spoke to my friends on Facebook. I looked at my image on the phone. I can tell, I didn't see anything horrible. My face was quite swollen, and I felt discomfort and minor pain. On the following day, they took me to the ward. I'm immensely grateful to my mom, who visited me every day. There was no way I could eat by myself. Mom used to inject food into my mouth because I used to get exhausted even from eating. It was hard to talk, sleep; I had no appetite. Simonas Grybauskas also visited me every day and complimented me, said I looked great, urged me to eat a lot, and to walk. I obediently executed his instructions. I'd like to emphasize that this doctor is also a wonderful person. I'm sure one can trust his/her jaws to him.
One more thing that I didn't know and no one told me about. After the surgery, I was overwhelmed with anxiety because the swelling was still present. It seemed like it's going to last forever. I took pictures every morning. I looked terrible, felt pain, couldn't recognize myself. Once I even broke into tears because I couldn't get accustomed to my new face. Still, my mom kept on repeating that only one month had passed, and the doctor had mentioned that swelling would disappear only two months later. However, everything changed much faster than I expected.
Creative work and fine arts were always close to you, and perhaps treatment had influenced your original work in some way?
the treatment was the creation of beauty, but it was the creative work of S. Grybauskas. Possibly, my creative work and creative thoughts assisted the treatment. It was exactly during the treatment period when I attended various exhibitions, and myself painted. It helped me gain tranquility and inspiration. It's weird, but a few years ago, I painted a portrait of a girl, but now, when I look at it, I see my new self. I wish that the completion of the treatment could help me to get a stronger hold of the creative path.
Commentary of Dr. Grybauskas:
Vita turned to me because of a tremendous problem – she had a mandible that was too big, and it did not match the maxilla.
As analysis often shows, the not only more prominent mandible was to blame for malocclusion, but also the maxilla, which was insufficiently developed. So, from the very start Vita was being prepared for surgery of both jaws.
Treating a motivated person is easy. At the beginning of the treatment, Vita knew what she wanted and was result-oriented. She had to return from abroad often, so the orthodontist could prepare her for surgery. She also knew, the more dutifully she will visit the orthodontist, the sooner the date of the surgery will come.
The entire surgery took three hours. During its course, maxilla was moved forward, mandible angle was changed, and the shape of chin corrected.
During the post-operative period, Vita was motivated to get well soon and return to work, she dutifully carried out all given instructions, practiced good nutrition, so, for all those reasons this phase of treatment passed quickly and left no bad memories. If all patients could be just as persistent and in good humor as Vita, then working would be simple.
—
Orthognathic treatment always includes the joint work of doctor orthodontist and surgeon's team. The team of Dr. Simonas Grybauskas would like to express gratitude to orthodontist Giedrė Trakinienė for collaboration. Such treatment results were accomplished by courtesy of her.