I'd choose treatment and surgery again, in the same happy-go-lucky way, without admitting any negative thoughts. And then, I'd enjoy the beautiful results just as I do now.
What was your life like before the surgery? What troubles were you experiencing because of malocclusion and jaw position? In what way, if at all, have you tried to handle this problem by yourself?
Life before surgery was different than after it. In my teens, I used to get scathing remarks and comments on my appearance indeed. I managed to pretend that it doesn't hurt me, but within, I felt very hurt by it. Each remark used to hurt and crushed me down more and more.
Was it possible to change something? Back in childhood, my parents, after seeing my malocclusion, took me to various odontologists, but we never managed to find a real solution. In such moments you get to realize that fundamentally you can't change anything, and you got to live with it. I don't have a single photo in which I smile or stand sideways – I used to conceal my smile and posed in a way that would hide my protruded jaw.
Where did you learn about this treatment method, and who encouraged you to choose precisely this method?
Some time ago, we decided to register for yet another consultation in one odontology clinic in Vilnius. After examining me, the doctor said that there's nothing she could do for me; however, she recommended to turn to doctor Simonas Grybauskas, who solves such cases. After the consultation, we sought information about this doctor on the internet and registered for the first consultation without hesitation.
After the first consultation, I had to make up my mind about whether to start treatment or not. No other method could help except the surgery. Just like every other person, I desired that beautiful smile I dreamed about. I also trusted dr. Simonas Grybauskas, I was confident that he knows his job well, perhaps that's why there were no doubts or considerations.
Did you look up other people's experiences and opinions before you chose orthognathic surgery?
All cases are different; we all experience and live out things in a different way. Perhaps I didn't want to hear something that could frighten me and make me change my mind, so I didn't look for any information and didn't read about any of it. I trusted the information which I've received from the specialists.
Were you in need of support from relatives or friends? What was their reaction like when they learned that you've decided to have surgery?
The relatives asked do I need this, they told me I pretty and there's no need to change anything, they encouraged me to weigh all pros and cons. On the other hand, they knew that they'd have no luck trying to change my mind, so there was just one option left for them – to give me moral support.
Of course, had not parents supported me in every possible way, including financially, probably I'd have to live with this problem for a long time. I didn't want anyone to know about this. Only my family and a handful of closest friends knew about my wish to have surgery, so seeing the reactions of those around me was fun.
How did the treatment process go? What moments were the most difficult? Most comforting?
The treatment process itself was prolonged. Everything happens bit by bit, so it requires a lot of patience. Perhaps, the most difficult moments occurred already after the surgery. Those two weeks when it's hard to speak because nobody understands you, and you must write it on the sheet of paper… That swelling, insensitivity, and weakness… That post-operative period when you must drink only liquid food that you don't want, later you have to eat purees, and still not chew anything. The time when I was not allowed to chew happened to be precise during the festive season, so it was hard to resist.
Perhaps the most comforting moments occurred when I was told that the surgery was a success, and there were no complications when they removed the tight bandage from my head, which pressed on my ears. When I was already able to see the reactions of others when they saw me, their jaws dropped to the floor literally.
In your opinion, what is critically important when deciding and choosing orthognathic treatment? What would you advise other people who encounter a similar situation?
I think that trusting your doctor and believing that his opinion and a decision made is the most suitable. Also, it's essential to decide by yourself whether you really want it, do you need it, and whether you are determined to do everything to achieve it. I would advise others to turn to specialists and solve the problem, to have fewer doubts, and make smart decisions that will change your life, reliable choices, even if they seem drastic at the beginning. Each of us wants to have a pretty smile and get rid of our complexes.
How did your life change after the treatment (both personally and professionally)?
I became more self-confident and started liking myself finally! I get lost of compliments from people around me. Also, people waiting in line for surgery contact me and shower me in compliments. By the way, my doctor orthodontist Dalia Latkauskienė (she's a beautiful person indeed)jokes by saying that now I can become a model. It's delightful, and I'm very happy!
If you could turn back time, already knowing and experiencing as much as you have now, would you still choose to have orthognathic treatment?
I'd choose treatment and surgery again, in the same happy-go-lucky way, without admitting any negative thoughts. And then, I'd enjoy the beautiful results just as I do now.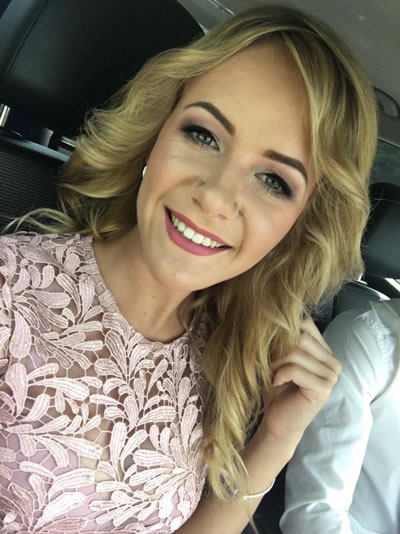 —
Orthognathic treatment always includes the joint work of doctor orthodontist and surgeon's team. The team of Dr. Simonas Grybauskas would like to express gratitude to orthodontist dr. Dalia Latkauskienė for collaboration. Such treatment results were accomplished by courtesy of her.